Gneisenaustr.18 10961 Berlin


August 2017 music program
SHOWTIMES
SUN-THU 21:00
FRI & SAT 22:00


19. SATURDAY two acts tonight:
Ausm Blauen Funk, Soul, Jazz, Rock
Ausm Blauen beudeutet Funk, Soul, Jazz und die angebrachten Menge Rock in der Hinterhand. Die Band bietet eine energiegeladene Show mit deutschen Texten, präsentiert von außergewöhnlichen Musikern. Die Zusammensetzung aus gelernten Jazz und begeisterten Funk-Rock macht den Sound der Band so Einzigartig. Die Musik wird zu einem großen Teil von Soli geprägt, die abwechselnd von Saxophon (Alt, Tenor, Bariton) und Gitarre gespielt werden und schon mal die Kinnladen von Kennern runterklappen lassen. Ausm Blauen positionieren sich klar gegen den vorherrschenden Mainstream, der geprägt ist von eintöniger und langweiliger Fließbandmusik mit immer den gleichen Aussagen. Jeder der Fan von selbstgemachten und neuen Sounds ist, ist herzlich eingeladen eines der Konzerte zu besuchen, um eine saftige Party zu feiern.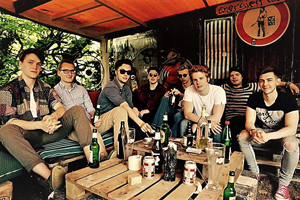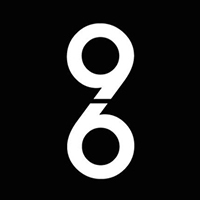 DISTRICT96 mystery act Hip Hop/Elektro
"DISTRICT96 sind ein Berliner Künstlerkollektiv, die mit ihrem Hip Hop/Elektro-Sounds für Aufsehen gesorgt haben. Durch die zahlreichen MC's und einzigartigen Beats wird ein sehr breites Spektrum an verschiedenen musikalischen Einflüssen geboten. Der Support am 19.08 wird eine Überraschung aus dem Hause "DISTRICT96"!
www.facebook.com/96chambers

25. FRIDAY Manding & Contemporary Music & Dance from Burkina Faso
LANAYA
Pre-Release Konzert des Debutalbums !
Weltbekannte, kraftvolle und furiose Rhythmen, Lieder und Tänze - harmonisch groovenden Melodien und rhythmische Improvisationen werfen neues Licht auf teilweise uralte Volksweisen.. Line-up: Aziz & Ibrahim Sinka, Mama Sanou, Gofefo Konaté & special guests
www.LANAYA-denou.de
www.facebook.com/Lanaya-331182937073255/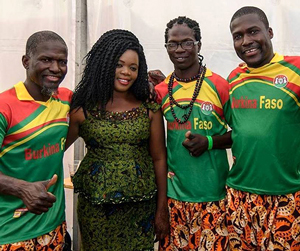 26. SATURDAY ---- 22.00 ---- Eintritt frei

24:00 - 1:00 Ladies Freigetränk

31. THURSDAY Rock, folk rock, indie
The Diatribes
The Diatribes, a Berlin-based folk rock trio, were born in the late 1990s of the collaboration between Landis MacKellar (guitar, harmonica, vocals) from the 1980s New York Fast Folk crowd and Steve Ney (bass), a survivor of the West Berlin indie scene. Adam Weisman, a prominent New Music percussionist and presumptively the only rock drummer to have played under Leonard Bernstein and Frank Zappa, was the final ingredient. Their material, which ranges from hard core to lounge jazz with truck driving music and historical ballads along the way, boils down to a profound dismissal of human perfectibility.